[ad_1]

Zhang Qin, 21, from Beijing, looks at a computer screen and occasionally stops writing on his notepad. Look over her shoulder and you will see that the text is in Hindi.
Chang, "Hindi name" Shanti, is the trainer of China Radio International (CRI). One day, the state-owned broadcaster's Hindi service department had 17 members — only three of them Indians.
In a country where English is rarely used, a building full of Chinese men and women can get used to the six languages ​​that CRI broadcasts on the Indian subcontinent – Hindi, Urdu, Tamil, Bengali, Nepali and Sinhala.
[related-post]
"My friends were confused by my decision. Those who decide to study a second language usually take English," says Shanti – who, like many in her field – seems to be more comfortable speaking in Hindi than in English.
How did she get her name? "Om Shanti Om," she says with a smile, before revealing that her Hindi teacher gave it to her.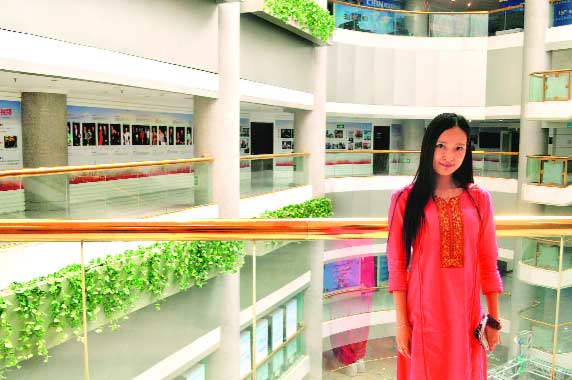 Liao Liang, a reporter in the Tamil industry.
This procedure is common for those who take a second language. Even tour guides in China usually have an English name – ours went by Tracy – so those who come with them are easy to remember.
Shanti, who has been studying the language for three years – including the one who spent time in Kendriya Hindi Sansthan in India – speaks only chastity Hindi unlike the "Kichadi Pasha" spoken by people in Delhi. She knew this from the little time she had spent at Vasant Kunj in Delhi.
According to Zhao Jiang or Kalaimagal, the director of the Tamil Department, the "pure language" they use is the highlight of their one-hour programs, which are broadcast on the shortwave band in India.
Fan mail sent to CRI staff.
Young radio jockeys try to put politics aside and focus on giving listeners a taste of China – from its music and movies to cultural interests such as how weddings work in the country. A lot of listeners, staff tell us, are curious to know more about Tibet.
Their work does not go unnoticed. The six CRI departments, which employ about 90 people under them, receive feedback from over 2 lakh people from the Indian subcontinent — sometimes traveling from West Bengal, Uttar Pradesh and Rajasthan by lots of emails or old-fashioned handwritten letters. Way to Beijing.
For Liao Liang, a 27-year-old reporter in the Tamil industry, the comment was "precious". The other thing he particularly likes is "reading Chinese music for my Tamil listeners". The Tamil radio channel with mobile app has listeners not only from India but also from Singapore, Malaysia and USA.
Liao, dressed in bright pink salwar kameez and white sneakers, says she took the language "with curiosity". After working for six years, he says the next thing on his agenda is to visit India to study further. This trend is common among staff at CRI, who study a second language from universities in China and then, at some point, go to India for a year to hone their skills.
According to Tang Yuwangui, deputy director of the Hindi Services Department, if they sit in Beijing, they can only speak a second language "Bukish" and sometimes in the verb form.
In a nearby recording room, Liao Jeong, a Hindi service reporter who introduces himself as Ramesh, says that no matter how fluent he is in Hindi, "I still think he's in Chinese." Whenever he gets a story, he first writes it in his own language and translates it into Hindi.
That is, his Hindi is in the right place, and he throws words like "homeland" to refer to his hometown Sian.
Yang Yifeng, director of the Hindi Services Department, could not say for sure why so many young people are coming to join the Indian language industry. "We may have seen a lot of Indian movies or music as children," he joked.
Going forward, they believe that CRI – with the help of the Indian government and radio channels in the country – can broadcast on FM instead of shortwave so they can "take China to more listeners".
The writer was in China at the invitation of the Ministry of Youth Affairs and Sports.
[ad_2]

Source link