[ad_1]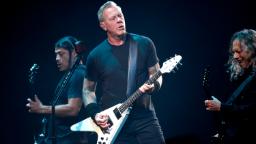 The legendary heavy metal band first performed the solo song "Fixxer" live in 1997, and they performed at the Chase Center in San Francisco.
"After 40 years, there are still first songs," lead singer James Headfield said before they started the song.
They also performed some fan favorite songs, including "Draft Under Ice" and "The End of the Line" and "Nothing Matters Matter" and "Chat But True".
The band was inducted into the Rock and Roll Hall of Fame in 2009.
[ad_2]

Source link