[ad_1]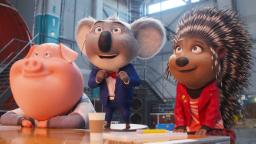 When the Kola Bear Impressor Buster Moon (including Matthew McConaughey, who sings or competes as governor of Texas) bets about his ability to launch an extensive stage show in Redshore City, the key players are often the same. Like Las Vegas.
Unfortunately, the ruthless casino mogul (Bobby Cannaval) buster who runs the venue insists on the participation of an old rock-star lion (Bono). Many obstacles that Buster and his friends face.
In addition to Bono, formal music stars Farrell Williams and Holsey will be teaming up with returning actors Reese Witherspoon, Scarlett Johansson, Daron Eckerton, Tori Kelly and Nick Kroll, while writer-director Karth Jennings will reprise the role.
However, the real star of "Singh" is the music, and the producers did not leave any out on that score, including U2's list of songs that included "Where the Streets Have No Name" (for a reason). "Let's Go Crazy", "Goodbye Yellow Brick Road", "Higher Love", "I say a little prayer" and so on.
The animation is colorful, the durable show loaded under considerable pressure enumerates a substantial portion of the film.
It's empty calories and highly calculated music sugar rush. However, Illumination (the clothing behind "Despicable Me" and "Minions") wants nothing more than this right to be fun, and at the most basic level, especially to provide enough for those who are premature. Demo.
Besides, for parents who enjoy their musical tastes, this is probably a public service to introduce children to some of the songs their moms and dads grew up with, all wrapped up in a bright, anthropological package.
"Singh 2" is set to hit theaters in the US on December 22. This is the BG.
[ad_2]

Source link