[ad_1]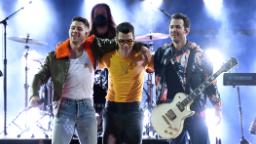 That popular TikTok video – a side talk featuring rapper Gorilla Names that went viral over the past few months on the NYC Instagram show – has hit the White House.
The Jonas Brothers chanted in various rooms of the White House, "Ping Pong! Have you been vaccinated? Yes sir!" Released a video recreating such lines. And "Who's President, who's President? Byrne! Byrne! What do you want to say to Joe Byrne now? What the fuck … take me to dinner."
At the end of the video, the Jonas brothers look at the camera and ask, "Did we get it?"
To which President Joe Biden joked, "We got it!"
This video has garnered millions of likes.
Celebrities are also happy to release their own videos from John Legend to Lil Nass X.
The person in the original video is named TJ, who is homeless on Connie Island in New York. A Go Fund Me was recently created for him and has raised over $ 30,000.
[ad_2]

Source link